AILEY and Curating Screendance into festivals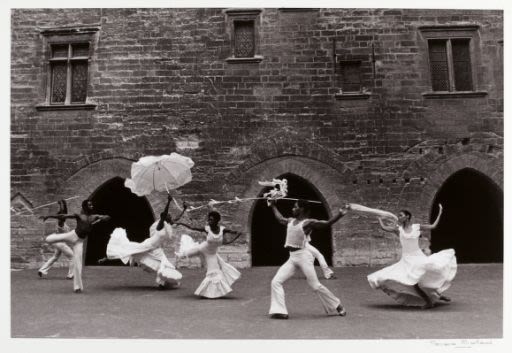 Date: 29th March 2022
Time: 10-11.30 UK, 11-12.30 CET
Venue: Online (Zoom)
Language: English
image on left: Revelations, spectacle du Alvin Ailey city center theater. Festival d'Avignon,1977, Fernand Michaud, BnF, no copyright-other known legal restrictions.
The LabDay method is keen to look at a problem in a sector/field and come up with "solutions/offerings". This LabDay spoke to some of the follwoing questions:
Lack of dance films in film festivals – is there a need for curating more dance-related content?
Lack of diversity in the Cultural heritage sector- Black and African Diaspora dance community is under represented… how can we challenge this reality?
Using dance films and curatorial techniques to open up spaces to explore intersectionality through dance.
Each guest brought a unique perspective to the conversation and had experience of curating and organising a screening of the latest film AILEY by director Jamila Wignot.
A bit on the AILEY film:
Alvin Ailey was a visionary artist who found salvation through dance. An immersive profile of ground-breaking and influential choreographer Alvin Ailey, founder of Alvin Ailey American Dance Theater. Sensorial and archival-rich, AILEY captures the brilliant and enigmatic man who, when confronted by a world that refused to embrace him, was determined to build one that would.
"A hypnotic, immersive portrait of the visionary choreographer… a moving archive of his most momentous achievements" – Indiewire
★★★★★ "a celebration of the art of dance, those who devote their lives to it, and the power of artistic expression" – The Queer Review
---
Guests Include:
Sinibaldo De Rosa is a researcher and artist interested in movement, dance and ritual for people at the margins across multiple performance practices and ethnographic contexts. His PhD thesis (Drama, University of Exeter and Music, Cardiff University) explored contemporary staged adaptations of the Alevi semahs. As part of his training in Movement Notation (Laban) at the CNSMDP, he is currently reconstructing extracts of Donald McKayle's Rainbow 'Round My Shoulders (1959) and notating Yeşim Coşkun's 4Kapı 40Makam (2011) thanks to the support of an Ivor Guest Research Grant and a BIIA's Study Grant. Based in Bristol, he is a member of the artist-led collective Interval and of the Society for Dance Research Executive Committee, as well as a Swedish massage therapist and an elderly care assistant.
tw: @sinibaldoo
Academia https://exeter.academia.edu/SinibaldoDeRosa
Research Gate https://www.researchgate.net/profile/Sinibaldo_De_Rosa
---
Mercy Nabirye
FRSA, FWL, formed Kauma Arts following her tenure in a series of leadership and management positions across the creative industries. Her career spans over 30 years in leadership roles across artforms, developing and implementing flagship programmes for change and strategic development. She is inspired to push boundaries.
She is director of Kauma Arts and who are dedicated to connect and support talent across diasporas rooted in Africa. They want to put a spotlight on creatives from The Continent in all its richness and diversity. In September 2021, Mercy received an honorary doctorate of Arts from the University of East London, in recognition of her achievements.
tw: @KaumaArts
---
Michele Aaron is Reader in Film and Television at the University of Warwick. Author and editor of several books, her work now centres on ethical praxis and exploring the potential for film to affect personal, social and political change through collaborative projects. She has co-produced social justice-oriented films with the terminally ill, young activists in Coventry and students in Palestine. She is Director-Curator of Screening Rights Film Festival which aims to extend audiences for, and debate on, important international social justice-oriented films.
https://warwick.ac.uk/fac/arts/scapvc/film/staff/aaron/
tw: @MicheleAaron4