Safeguarding Our Romani Language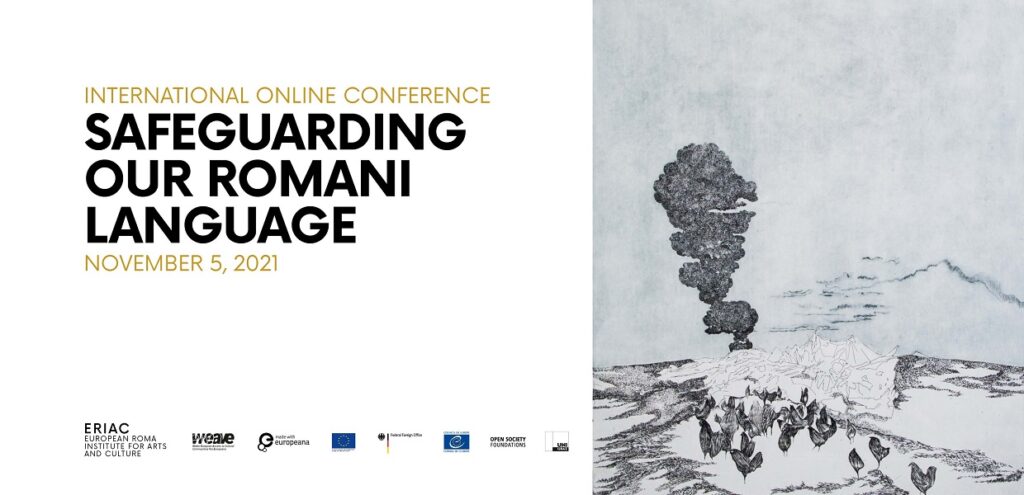 CONFERENCE
Date: 5th November 2021
Time: starting from 10:00 CET
Online via Zoom
Language: English, Romani
On the occasion of the World Day of Romani Language, on November 5th, 2021, the European Roma Institute for Arts and Culture (ERIAC) organized the Second International Conference "Safeguarding Our Romani Language". In the framework of the conference, a special track and discussion of the WEAVE LabDay series was embedded, dedicated to the Roma community and their heritage.
The conference brought together experts, practitioners and legislators who participate in the protection and promotion of the Romani Language as one of the historical and minority languages of Europe.
The aim of the event is to oversee the status of the Romani language, to discuss the issues of language preservation, the topic of transnational harmonization, as well as the practices in Romani language education. This year a special emphasis was put on the theme of heritage preservation involving digital tools, especially for improving language education.
---
The conference provided an overview of the contemporary status of Romani language; current practices in Romani language education; Romani language teaching/re-learning initiatives; transnational development of Romani language and culture; the future of Romani language education.
Departing from the notion that Romani language heritage is at risk, the conference aims to establish cooperation for language harmonization at international level, designing shared ways and future strategies for preserving our language heritage, and to fulfill the general need in Europe for Romani language education tools. Invited speakers included academics in the field of language teaching and linguistic research, Roma political leaders advocating for the visibility of the Romani language heritage, as well as representatives of the European Parliament involved in the preservation of minority languages.
Speakers: 
Jeroen Schokkenbroek, Dieter Halwachs, Evelin Hust, Professor Vesna Crnic-Grotic, Kimmo Granqvist, Marcel Courthiade, Helena Sadikova, David Little, Ahmet Murat Kilić, Zemfira Kondur, Delia Grigore, Szilvia Lakatos, Natali Tomenko, Gheorghe Sarău, Cristian Padure, Mihaela Zatreanu, Diana Kirilova, Kirill Kozhanov, Saimir Mile, Ian Hancock, Thomas Acton, Hristo Kyuchukov, Anna Mirga-Kruszelnicka, Veljko Kajtazi, Erika Godlova, Zuzana Bodnarova, Melinda Rézműves, Timea Junghaus