Mastros Tradicionais, a cultural practice from Odemira (Portugal)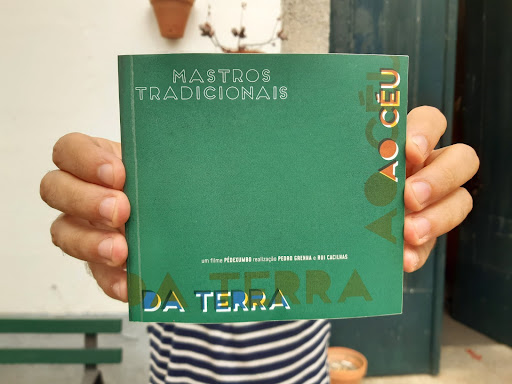 This LabDay was composed of three parts dedicated to the practice of Mastros Tradicionais,  a cultural practice from Odemira, Portugal
conversation with the research team and presentation of the documentary "Da Terra ao Céu"
presentation of PédeXumbo's Brochure Collection "Para Conhecer e Fazer", dedicated to Mastros Tradicionais, with hands-on activity
Paper Flowers workshop: How to Make Paper Flowers
---
Session 1
The LabDay dedicated to the practice of Mastros Tradicionais, a cultural practice from Odemira (Portugal), started with a conversation with Marta Guerreiro, Leonor Carpinteiro, Rui Cacilhas and Pedro Grenha, who did the research work for the documentary "Da Terra ao Céu". The documentary "Da Terra ao Céu" is a film by Pédexumbo, directed by Pedro Grenha and Rui Cacilhas and is also a journey through the municipality of Odemira. A film that we started to imagine in 2017, filmed in 2018, premiered in 2019 and just released in June 2021, in Book/DVD format. This research work allowed us to discover all the lands and places in the municipality of Odemira, while we were looking for someone who could tell us about Mastros Tradicionais.
Session 2
The second part of the Labday presented the nº 1 of PédeXumbo's Brochure Collection "Para Conhecer e Fazer", dedicated to Mastros Tradicionais. This is a collection of publications in the form of handcrafted brochures where the aim is to provide information on specific techniques and objects related to traditional dance and music, in an informal, simple and visually attractive way. These brochures are dedicated to themes that rarely appeared in the past in written form, thus contributing to an enrichment of the literature dedicated to techniques and practices of traditional Portuguese music and dance combined with objects and knowledge. These publications, which are not intended to be boring or academic in content, are intended to provide the reader with a brief contextualization, description of the practice and instructions on how to experiment by doing it. This collection also intends to reaffirm the importance of the production of small editions in series of handcrafted publications (using the silkscreen printing method), as a fast means of disseminating knowledge and, simultaneously, of an object with artistic value.
Session 3
In the third activity of the day, we offered a hands-on activity: a paper flowers workshop starting from a pratice in the brochure "Para Conhecer e Fazer – Mastros Tradicionais", to show how to make paper flowers and to teach some folding techniques of traditional paper flower designs.