Safeguarding Our Romani Language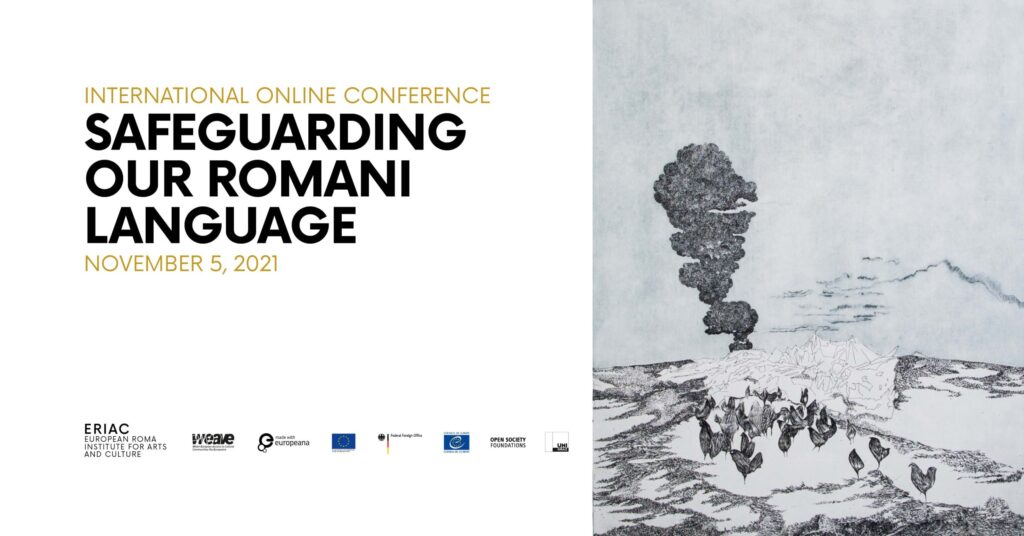 Date: 5th November 2021
Time: 10:00-16:00 CET
Online via Zoom
Language: Romani and English
Download agenda (PDF)
On November 5, the World Day of Romani Language, the European Roma Institute for Arts and Culture (ERIAC) organized the Second International Conference "Safeguarding Our Romani Language", in partnership with the Council of Europe and the University of Graz. The conference is organized in the framework of the International Membership Engagement Initiative, financed by the Federal Foreign Office of Germany, in connection with WEAVE (Widen European Access to Cultural Communities Via Europeana) LabDay series.
Our goal is to establish cooperation for language harmonization at an international level, to design future strategies for preserving the language heritage, and to fulfil the general need in Europe for Romani language education.
The conference brought together experts, practitioners and legislators who participate in the protection and promotion of the Romani language. The aim of the event was to oversee the status of Romani, to discuss the issues of language preservation, the topic of transnational harmonization, as well as the practices in Romani language education.
This year we put special emphasis on the theme of heritage preservation involving digital tools, thanks to the connection with the WEAVE project, that is extremely relevant and coherent within the scope of the conference, as it aims to develop a framework to link the tangible and intangible heritage of cultural communities, safeguarding the rich and invaluable cultural heritage which they represent via digital cultural heritage promotion.
The conference was held online, providing a platform for international participants from various countries. Special significance was given to the use of Romani during the event.